Roy K Austin's poetry page.
by roy k austin
(Dorset England)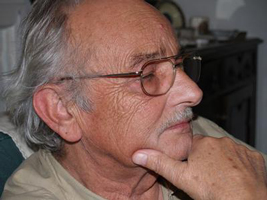 SITE
roykaustin.weebly.com
(Visionary poetry)



JUST LOOK

Look back
into the past tense-
let stars see their
magnificence,
concatenations
tell the story,
they gave man eyes
to see their glory,

break through the blue
oblivious skies,
wonder how they prize
your brain, your eyes,

one's worldly self -
that ego - hoax,
looks through a veil
of locked up tears
bound round with thought
and bar - like fears;
while inward and invisibly
nothing reigns of ' me ' ,
' I ' am - ness wears the crown
it has no boundary ;
that kaleidoscope of stars
such art, so masterful,
effect, far greater
than it's cause, so pause
and look as ' now '-
don't think but feel
what you may see,
their light is spent
to find the art in me
which means the art
in me and you.



AS ON WATER

She readopts her habitat
my wren of fleeting charm,
and so like you, my flighty girl
forever on my arm,

we flicker here, we flicker there
and waste powers ' to be ' ,
in shyness to our inner selves
the little wren I see,

for time has had her fancy now
and we have flung the stone
that made the ripples from our lives
from deep centers unknown,

it seems like folly to infer
vicissitudes alter
when we all end as one, my love
as ripples on water!




FRAMED

Above the antique glass
and wistful steeple,
where the man - made hours pass
the timeless people,

where acres of green trees
sooth away my eyes,
the figured ghosts of these
in the changing skies ;

when above and below
are one and the same
and I am the people
in a Lowry frame,

to see in a picture
what words cannot tell,
or move there with the crowd
to the chiming bell,

to cleanse identity
from pulpits of time,
to be in the moment
to feel the sublime,



SPOILED

Am I spoiled then for choice
does love have a loud voice,
is my tree's glory her throng
am I deaf to the bird-song !
Does the flora's multiple hues
give me the blues,
do I forget at fall-
was spring my wake-up call,
and through summer long
did I admit that I was wrong
to feel your absence from afar
not seeing you for what you are;
and so with autumnal eyes
will I now sense or prize
what love and autumn really is !



SOMETIMES

Sometimes a presence, walks with me
as if to share my life,
so like the sun above, that casts
my shadow with its light,
walks with me through scattered gulls
around these rugged scaurs,
along the margin where the tide roars,
that line of tide along the sand
and the life-line upon my hand :

Seeking spirit is like looking for the wind,
not finding the wind but only what the wind does,...

a presence within, as if from beyond
where the mind cannot reach
as it meets transcendence-
as my eye is dissolved by blue sky ;
with me, it seems, all day, in endless moments,
a gentle wise companion,
'til the mundane world returns, to span,
fill the depths and shrink the man.



THE WINE

The broken bread my birthright
and the whole vineyard was mine,
and still I see a brutal crown
in swathes of tangled eglantine,
and red poppies for his blood
to mix with tears that trickled down,
and vinegar in every soul
to soak the sponge and raise the pole ;
as now, we think
to give triumphant love a drink ,
when all our murderous deeds
have shaped this mystic to our needs ?
Is not a cup of eastern tea
enough to sup with the divine ?
For it is pertinent to me
how centuries have corked the wine.



BLESSED INTERVAL

Is there a moment that never stops
always there where the pendulum drops?
For I would let the clock unwind,
observe my thoughts that they might cease
until such measures of my brain
might let the brass there
hang in peace, when future
and the past, no more
would block me at that open door :
The other side is Krishnaji
who sits and stays with what he knows
and how he quells his body – mind
as if this world were never here-
to leave it for the Astral sphere,
and how he steals beyond my gloom
what soil gives to the lotus bloom ;
his thoughts like soldiers absent here
are now, well under his control,
in rising well beyond the hour
returning like a lost patrol ;
with sunrise on his parade
his soul makes shadow for my shade.



PENSIVE WANDERINGS

Why does the green feed my soul
while black evokes a mystery,
and red, our life-giving blood
reminds me of our history,
and spirit too on silver wings
how gold runs to the heart of things,
and sophistry, is it the lot
that leaves us in a tangled knot !
Thanks-giving day-to fill with stuffing,
how everything has come from nothing !
And what is it – the ground of all
that tickles inwardness to laugh,
to leave me life-less on the wall
just hanging in a photograph;
is this a cosmic joke I see
or is it God, just being me,
for it is odd, don't you agree !



SHE IS

The ego grows and sticks like glue
behind it's rampart and walls high,
through slit windows it's arrows fly
to fall and run straight through
the spirit that is always you,
in desert climes where she is freed
as wind blows through the tumble-weed
and who can tell or glean
or verify what she has seen;
she is not time if she malingers
if she like sand runs through your fingers
forgetful she of all forgiven
she is the very soul of heaven,
she is the depth of the profound,
and is what makes the world go round.



OF SYLVIA PLATH

(To Wuthering Heights)

As if in sleep she walked alone,
her subconscious stalked as a companion,
it is significantly strange
when darkness fell upon her
on those settlements below
to see them, 'gleam as small change',
the beauty rising from her words
departs somewhat from what I'm told,
for there is no doubt in my mind
she reimbursed a thousand-fold,
and to her soul, her underlying tragedy
my wreathe is laid unto her mystery :

A long journey, a tiny creature,
a tired, winged migrant,
I wonder, did it call her then
through a rising mist like this,
was it wild October, calm and damp,
a state of empathy with mind
over moors to 'Wuthering Heights',

Did she see, standing in grey gloom
that old rusted barn, with tin-bell,
could she hardly see as I do, or hear
it tinkling to and fro, or feel it's
gentle swing by moderate air flow,
did she look back, forlorn
to see her tracks, alas her past
banish her from sight,
lose what once was her true self,
lost to the surrounding fog
and her coming nightfall!
Was she left within the moment
to brood and dwell on bleak things,
did she listen to the bleat of sheep
as I do now in isolated spaces,
undisturbed to graze there,
suddenly to loom, appear to she
who stared back as the uninvited,
as the thinning fog rose higher,
looking like unwilling hosts,
was she an unexpected guest too
looking ghostly from another world,
would she entreat me now to leave them
in her unknown peaceful places,
grazing on their ancient land,
she does not need or see heather now
or the tangled silver roots that
'invite the whitening of her bones.'



EXTENSION OF MIND

(Spring)

In the northern hemisphere
earth turns her face towards the sun
and down the south, to shy away,
and at her midriff, constant
to one way or another
as she rolls on with her bias,
like a tired old man, strolling
round a dark, blue mere ;
( I exorcise the ghost of Wordsworth here)
surrounded by daffodils,
as their trumpets, greet the eye
and sound out to the mind's ear
like the bright stars, awake
by day to the dark unending night,
and what a sight when all around
him, would show the universe
growing upward from the ground?




Please tell your friends about us.