Change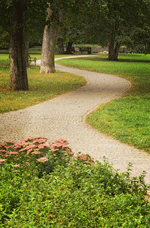 © Meryll, Dreamstime.com
Inhale love; exhale fear; inhale love; exhale fear.  Then go out, and do it - live love.  It will get easier.  You will feel stronger.  With each step you take, you will gain confidence in the process, and in yourself.  Continue.  Purge yourself of the negative behavior that limits you in your development.  This is your behavior; not you.  You can dislike your behavior, and change it, because you like you, and you want a better life for yourself: a better life, a more peaceful life, a happier life, a more fulfilling life.  You can do it, too, because you want to like you, and you don't right now.  But realize, your behavior is not you.  You choose your behavior, and its repercussions reflect back to you, but you are not your behavior.  I'll say it again, you can dislike your behavior, and like yourself.  Change your behavior, and the new behavior will begin to reflect back upon you too.
The basic lesson of faith is to do the thing, believing it is true, and it will become so.  Go through the motions, and what reflects back to you will give you the incentive to continue.
Do understand that there is a transition time; a time of changing from the old to the new - a time when some of the old garbage may still be coming back to you, before the new starts coming.  We put things out, and they take a while to come back to us.  Continue through this time; have faith, and trust.  It will begin to flow as I have said.
(Inspirational writing 1996)
Return to More Uplifting Messages

Do you like our website?
Please tell your friends about us.