Like Begets Like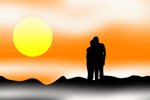 © Ajv123ajv, Dreamstime.com
Men... want to bring out the goddess in every woman?  Be a god.
Women... want to bring out the god in every man?  Be a goddess, not a mother. 
Like attracts like; you will bring in, what you call to you. 
The ironic thing is, treating someone like a god or goddess often brings forth a human being (because we are all creatures of light).  Putting someone on a pedestal puts you on two different levels.  You must step up onto the pedestal before you can attract someone on the pedestal level.
If you want to attract a different kind of individual, change yourself.  We are all, at some level, just giant magnets.  Be what you want to attract, don't do what you want to attract.
Return to More Uplifting Messages

Do you like our website?
Please tell your friends about us.