Self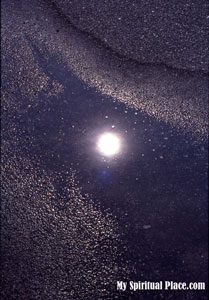 There's no mountain high enough; there's no ocean deep enough; there's no galaxy far enough to ever get away from yourself.  Know that when you have reached your darkest night, SHe can save you from yourself.
God does this with love; SHe does this by opening you to your Higher Self; SHe does this by helping you to remember, and embrace the spark of God within you, that, if you choose, can become your very being here on the Earthplane.
We are constantly moving back and forth between our ego-self and our Higher-self. This is the major spiritual challenge of earthly life. The ego is our "doing" self, when we give doing the priority. The Higher Self is our "being" Self when we give "being" the priority.
This is our spiritual dance in the earth - "being" in the Higher Self as much as possible.
Return to More Uplifting Messages

Do you like our website?
Please tell your friends about us.